Wilson Web
Edit
Purpose: OmniFile Full Text Select edition is self-described as a '100% full-text multi-disciplinary full-text database covering Art, Education, Social Science, the Humanities, Business, Science, Current Events, and more. Includes full-text from more than 2500 journals.' The database is the update or successor of Wilson Full Text Select, which was discontinued in the OCLC FirstSearch platform June 30th, 2011.
Note: H.W. Wilson Co. was purchased by Ebsco in June 2011; The Wilson Omnifile Select database became available on the Ebsco platform in February 2012.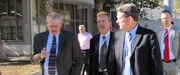 Community content is available under
CC-BY-SA
unless otherwise noted.